Learn More
About Student Choice
SCHS understands that students learn differently and should be allowed to work at a pace specific to their needs. Browse this page to find out more about our philosophy and enrollment procedures and discover why Student Choice High School is one of the best choices you can make for your teen's future.
Here at Student Choice High School, we provide students with an alternative approach to traditional high school. Our students receive individualized instruction in an environment conducive to focused learning as well as ongoing communication from their instructors.
Through unique programs including alternative high school and dropout recovery, our team of educators works tirelessly to help students graduate—their first step to successful, productive, and exciting futures.
Education with Students in Mind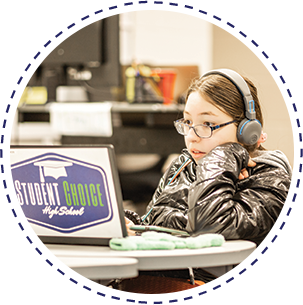 Student Choice High School serves students in a variety of settings. Traditional alternative education serves freshman through senior students. Students participate in a four-hour block of instruction, depending on individual circumstance and needs. Our Dropout Recovery Program, serving students 16 years and older who have been disconnected from their school. Our sites allow for flexible scheduling and are housed at learning centers throughout the Phoenix area. Both venues are best suited to provide opportunities for students to earn academic credit toward graduation based on their individual schedules at a pace they are comfortable with.
Our teachers are state certified and highly trained instructors who give special care to every student. We take exceptional care to ensure that every student with the desire to learn receives the most individualized, essential tools and instruction for their success.
Who We Serve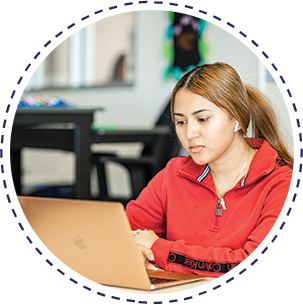 Many types of students pass through our doors every year. We strive to meet the needs of each one in the most positive manner possible. Examples of some of the high school-aged students we serve include:
Students who need a flexible schedule to accommodate jobs, transportation challenges, or family responsibilities
Students transferring with a deficiency in earned credits
Students who have had low grades and/or few credits earned in previous years at a traditional high school
Students returning to school after a prolonged absence
Students and parents looking for a more effective learning environment
Students with a desire to accelerate earned credits
Students looking for a smaller class size and more individualized instruction
Personalized Attention
Student Choice High School has traditionally focused on helping students on the verge of dropping out. We sit down with our students and help them gain a vision for their own future. Education is the key to a young adult's future, and SCHS wants to be a launching pad that helps students leap into the exciting future that awaits them after graduation. Perhaps our name says it all—it is about giving our students a choice.
Student Choice High School wants to help meet the educational needs and goals of every student enrolled at one of our schools. Our caring faculty and staff choose to work and stay at SCHS because of the success they've seen in their students. They enjoy getting to know the students on an individual level, not just as a name on the paper or a familiar face in a class of 35 or more.
The Student Choice Difference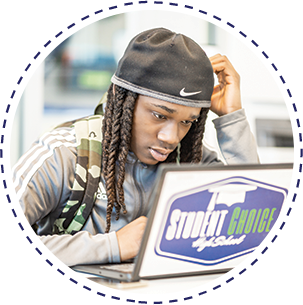 We care about each student and are dedicated to guiding each one toward success, not just in high school, but in their future, as caring, contributing citizens. Our highly qualified teachers work with students in a small class setting that allows them to personalize their teaching strategies. We also offer a full range of support services and program offerings that enhance student learning. What makes us different than traditional high schools? SCHS offers:
Significant and focused experience in dropout recovery programs
Individualized learning plans developed for each student
Mentoring and academic coaching
Self-paced, flexible scheduling, online, and accelerated learning opportunities
24/7 access to the Student Choice Learning Management System (LMS)
Credits based on content mastery, not "seat time"
Community connections through established learning centers throughout the community